By TheNewspaper.com editor

The New Jersey Department of Transportation uses E-ZPass to track the movements of motorists even when not on toll roads.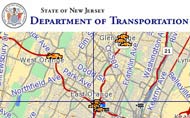 Drivers who use E-ZPass toll transponders are having their movements recorded even when driving on free public roads. New Jersey Star-Ledger columnist Paul Mulshine confirmed that the state's department of transportation uses E-ZPass scanners to know when, for example, a motorist drives to the mall on Route 24 in the Short Hills area.

Read the rest of the article HERE.