by TheNewspaper.com Editor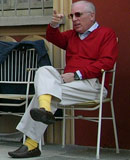 The board members responsible for imposing tolls on New York state motorists will never have to pay a toll in their lifetime. The New York Daily News reports that Metropolitan Transportation Authority (MTA) board members each get special E-ZPass transponders that provide toll-free driving and do not expire, even when the individuals leave their position on the board. Tolls in New York City currently range up to $10 for a one-way trip across the Verrazano-Narrows Bridge.

MTA Chairman Peter S. Kalikow has eight of these transponders that he can use on up to eight of his favorite cars, ensuring he will never have to pay that $10. Among the perfectly restored classics in his collection is a councours-winning 1961 Ferrari 250 GT California Spyder. Another 1961 Spyder in equally fine condition sold at auction earlier this month for $10.9 million, the most ever paid for a used car.

Read the rest of the article HERE.